Mobile Marketing
Use the customer's mobile device to deliver your 1-to-1 offers anywhere they are with SMS, push and messaging apps. Integrate SALESmanago Mobile with your mobile app to track app usage, build dynamic behavioural segments and send truly omnichannel campaigns
Key Features
Use one of the first Mobile Marketing Automation solutions in the world to build perfect cross device experience for your customers.
Track your customer behaviour in your mobile app
Go beyond email marketing and use text, messaging apps and push messages
Automate communication with your contacts on their mobile devices
Create fully responsive content perfectly fitting your customers' mobile devices
Enrich your CRM with mobile app behaviour data and location
Personalize content and delivery time for each individual contact
Use product recommendations in text and push messages
Measure results with advanced analytics
Mobile Messaging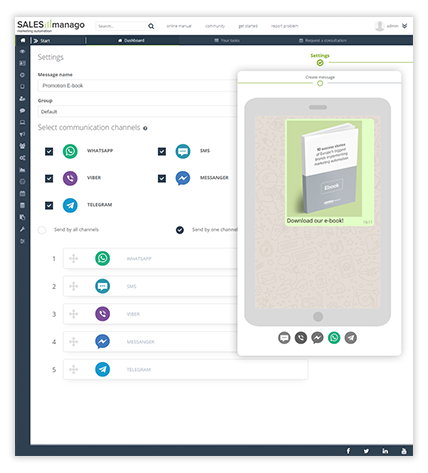 Use SALESmanago to manage communication with your prospects and customers on their mobile devices. Run bulk campaigns for selected segments of users or use mobile messaging as part of your automation scenarios. SALESmanago enables sending:
SMS

Whatsapp messages

Viber messages

Push notifications

In-app notifications
SALESmanago integrates with over 50 SMS gateways providers across the world and SALESmanago Mobile delivers native communication methods for your mobile app. Use mobile messaging to deliver truly omnichannel experience for your contacts.
Mobile Marketing Automation
SALESmanago Mobile is one of the first dedicated systems of automation in mobile applications. The Mobile Marketing Automation platform identifies and monitors application users' behaviour, builds their behavioural profiles and allows to understand them better. SALESmanago Mobile offers also automated and personalized communication via email, in-app messages, push notifications and SMS, based on built profiles. Thanks to the full integration with SALESmanago Marketing automation system, you can combine knowledge about desktop and in-app behaviour to develop complete profiles and realize personalized marketing and sales communication in every channel.
Monitoring of in-app behaviour
SALESmanago Mobile monitors the behaviour of particular users, segments and globally, of all users. Based on that data, it builds individual behavioural profiles and paths of in-app behaviour.
SALESmanago Mobile analyzes the following information inside the app:
Most often used modules of an app

Modules in which user most often abandons an app

Time spent in an app, average time spent in an app

Most often used modules in the app, globally

Autoresponders
SALESmanago Mobile collects the following data from the device:
List of applications installed on the device

Most often used apps on the device

Categories of apps most often use in given time of the day
Mobile Marketing Automation
creator of automation rules
Intuitive creator of automation rules allows to program simple processes like automatic notifications and complex personalized campaigns. Rules allow to react automatically to any defined user action or change in her profile. They're based on data gathered in real time, such as:
Behavioural data – full record of user's behaviour in the app

Transactional data – information about purchases made inside the app or recorded by external system

User's activity and location – time when a user is most and least active, precise location based on GPS

Device – used device, its operational system and web browser
Benefits
You can track mobile app's users as well as website visitors
Automation and personalization of push notification and in-app messages
Full analytics of usage of mobile app
Synergy of desktop and mobile marketing actions
Constructing complete and reliable customer profiles, involving data from various sources.
Read more about Mobile Marketing in SALESmanago
Ebook
Discover Marketing Automation secrets with our ebooks.
Grow your business with the best
Marketing Automation Platform